For eCommerce websites, loading speed is a huge factor: a slow website results in fewer sales. Customers get frustrated, abandoning the cart or site completely. You might think four seconds is a reasonable load time, but you will have already lost 25 per cent of potential customers at that point! (according to a KISSmetrics study).
SSD have brought performance to a whole new level. With the increased in CPU and Network Throughput, we were really limited by the rates at which even Enterprise Hard Drives could read and write data. With SSD, we have found the perfect solution to ultra demanding disk I/O. SSD also come with the added benefit of less power usage, less heat emissions, and less CPU stress (without having to wait for disk I/O). This means that not only are SSD great for your websites, but they also help lower the carbon footprint of our datacenters. Making us a powerful and environmentally friendly host!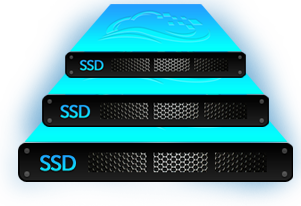 SSD Hosting for Database Driven Applications Running a large blog, e-commerce store, or custom application requires a lot of database input and output (I/O). As your site gets more popular and traffic starts to grow, your hard drives will start getting more and more concurrent I/O requests. During peak viewing times, the amount of I/O requests can slow down the recall of information from your database. This is especially true for sites on traditional "spinning media" disk drives. The physical limitations of spinning hard disks and the mechanical head restricts the amount of information that can be requested at a given time. This is where our new SSD Hosting is superior. With a lack of moving parts, data transfer is only restricted by the speed of the network (which is why our shared servers are already on blazingly fast 1Gbps networks). We have benchmarked our SSDs against mechanical hard disks and, as expected, SSDs massively out perform hard disk drives on I/O transfer. In the benchmark test to the left, we tested our already fast SAS 15K drives against 1TB Samsung solid-state drives during busy I/O periods. The result, SSDs pushed out 95% more data than these hard disk drives!
Along with transfer rate, which measures how fast data can be transferred from contiguous storage locations, IOPS can be used to measure storage performance. While transfer rate is measured in bytes, IOPS is measured as an integer. The best news ever is that: with Amazon AWS you can customise your IOPS! See this real life screenshot of maximum possible values: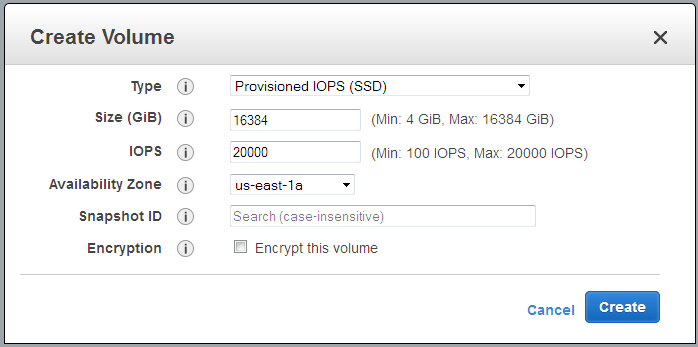 No players in the Irish hosting market can offer such SSD performance in their data centre.
Contact us for building the customised server of your dream! Otherwise we have SSD as a standard on our shared hosting plan.