What is cloud hosting?
Cloud hosting is the ability to provide a dedicated slice of virtualised computing power from a pool of many servers. The operator of the cloud is responsible for the maintenance, change of hardware, and uptime.
Prior to cloud hosting, customers had to either pick between VPS (cost-effective) or a dedicated server. Cloud hosting and computing effectively brought the ability of a cheap dedicated server to everybody.
Now on that cloud provided server, it is still possible to have it shared between many customers, or to have a single server just for yourself.
The benefits of cloud hosting
Let's face it, the main driver of any improvement is to bring the cost down and to increase productivity. How is the price brought down? Simply because the architecture is so well built that you need less human intervention to maintain it, so bring down human labor costs.
But the gain is not only on the prices: the reliability has been increased by a huge step. Before cloud hosting: the best you could pretend is a dedicated server without redundancy, and the only way to gain redundancy was to invest into more expensive replication. Cloud hosting is now providing by standard full replication ability a the minimum cost of: a click + the data storage.
Cloud hosting in Ireland!
Amazon through their AWS (Amazon Web Service) is the new comer in this market~ but they don't provide end-users hosting, only hardware and computing resources. We fill up the gap to bring your their technology to you.
AWS provides top-notch hardware and data center, however you will need a Sysadmin to manage this for you.
Cloud hosting rating
AWS named as a leader in the Infrastructure as a Service (IaaS) in the Magic Quadrant report for 7th consecutive year!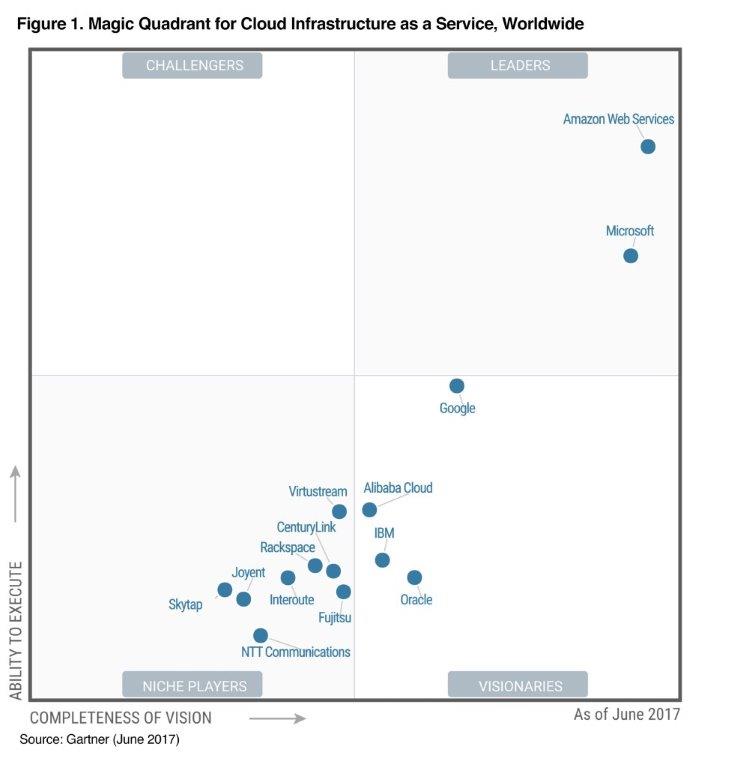 The current Irish market
The current Irish market of hosting companies suffers from:
* a deprecating technology ;
* un-patched servers all over the place, great for security! Have you tested your own domain? ;
* and the inability for developers to have access to their required extensions and plugins ;
Don't let yourself trapped in one of those hosting company!
All the cloud services you need from one single point of contact
We provide a:
* a secured, scalable, stable, powerful and lightning fast server built in AWS ;
* servers located in Dublin, Ireland (or anywhere in the world) ;
* best SSD hosting in Ireland : fast disks ;
* regular backups included in the price ;
* a cPanel environment which end-users are familiar with ;
* cPanel is an auto-update hosting software, Operating System and the latest security patches ;
* DNSSEC supported ;
* a PHP environment without any restrictions (a PHP developer heaven) ;
* ability to support the software/app layers if it is one of our supported engines ;
We have over 60+ satisfied customers in Ireland!
Ready to order our offer of cloud hosting in Ireland?
Check our prices and switch to a FORTUNE 500 hardware infrastructure.